Links
General Information on Laguna Beach, California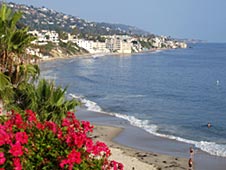 Laguna Beach Chamber of Commerce
Laguna Beach Visitors & Conference Bureau
Hotels & Accommodations in and near Laguna Beach, California
Montage - Popular new resort hotel built in the Craftsman style, ocean front
Ritz Carlton Laguna Niguel - Worldwide Top Ten lists, ocean front
The Inn at Laguna - Three Star ocean front hotel located next door to Len Wood's Indian Territory Gallery and steps away from Laguna's Main Beach
Restaurants in and near Laguna Beach, California
Las Brisas Restaurant - Popular local restaurant featuring grilled seafood etc with a Southwest flair and panoramic ocean views, located next to Len Wood's Indian Territory Gallery
Southern California Museums featuring American Indian Art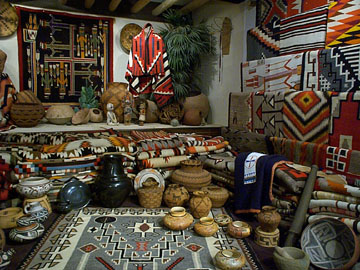 Museum of the First People at Len Wood's Indian Territory Gallery (private museum section of Len Wood's Indian Territory gallery featuring antique Southwest jewelry and jewelry-making tools, antique baskets and rotating exhibits; informal tours for collectors held on a continuing basis; some items in the museum section --and all items in the rest of the gallery -- may be available for purchase)
The following museums of interest to Native American Indian art enthusiasts are within approximately two hours driving time from Len Wood's Indian Territory Gallery in Laguna Beach, California:
Bower's Museum (about a 45 minute drive from Len Wood's Indian Territory Gallery in Laguna Beach)
Autry National Center (Museum of the American West in Griffith Park; Southwest Museum of the American Indian in Mt. Washington)
Palm Springs Desert Museum
Agua Caliente Cultural Museum
Malki Museum - on the Morongo Reservation
San Diego Museum of Man
Muckenthaler Cultural Center - Currently featuring Pueblo Indian Pottery Exhibition Journeys from the Earth - October 21 to December 23, 2007
Home Design Inspirations for American Indian Art Collectors
360-degree Virtual Reality Tour of Gamble House
The Gamble House in Pasadena, California, is an outstanding example of American Arts and Crafts style architecture. The house and furnishings were designed by Charles and Henry Greene in 1908 for David and Mary Gamble of the Procter and Gamble Company. The house, a National Historic Landmark, is owned by the City of Pasadena and operated by the University of Southern California and is open for public tours.
Other Sites of Interest
Laguna Art Museum - Located next door to Len Wood's Indian Territory Gallery and one short block north from Laguna's Main Beach, the Laguna Art Museum features both a permanent collection of both abstract and representational art including early 20th century Plein Aire oil paintings of Southern California landscapes and as well as rotating special exhibitions which can feature any style, theme or art form.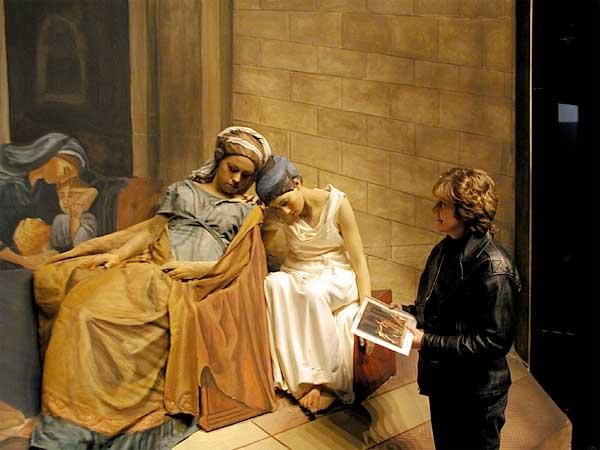 Festival of the Arts & Pageant of the Masters : July 2 - September 1, 2006
World famous art festival and pageant. The pageant features live actors replacing human figures within art masterpieces, paintings and sculptures. Special lighting and makeup and other special effects "flattens" volunteer subjects to life-size representations of the images in the paintings they are portraying (something easier "seen" than "explained". ) The pageant sells out early every year and many must wait for last minute cancellations on a standby basis.

A free shuttle service usually operates during festival hours in the summer with one shuttle stop steps away from the front door of Len Wood's Indian Territory Gallery. (At the adjacent corner in front of the Laguna Art Museum.)