46th YEAR ANNIVERSARY
1969-2015
Len Wood's
Indian Territory, Inc.
Jeff Wood, President
The Nation's largest
selection of Navajo Rugs, Indian Baskets and Antique
American Indian Art
Len Wood's
INDIAN TERRITORY
305 N. Coast Hwy, #D
Laguna Beach, CA 92651
email:
info@indianterritory.com
phone: (949) 497-5747
orders: (800) 579-0860
(email orders anytime;
phone orders Tue-Sat
11-4 Pacific Time )
GALLERY HOURS
Gallery Open
Tue. - Sat. 11-4
Pacific Time
(*Closed Sundays,
Mondays & holidays)

SUMMER & FALL 2009 HOPI KACHINA SHOW & SALE at Len Wood's Indian Territory Gallery, Laguna Beach
Hopi Kachina: Apache / Clown (Yoche / Koshare) by Cecil Calnimptewa
Hopi Butterfly Maiden "Pahlik Mana" Kachina Doll by Cecil Miles, 2008
Left: Hopi Kachina, Father Sun, Mother Earth by Ronald Honyumptewa 16 1/2 inches $2,900
Right: Hopi Kachina: Social Deer Dancer (Sowi-ingwa) by Alfred "Bo" Lomahquahu $3,800

Left: Hopi Kachina: Supai and Supai Maiden by Brian Honyouti $2,900
Right: L259 Hopi Kachina: Monster Woman (Soyok Wuhti) by Kevin Pochoema $2,700

84 of the 300 highly detailed Hopi kachinas in this collection are featured in the new Hopi kachina carver reference book "Hopi Katsina: 1,600 Artist Biographies" by Gregory Schaaf $65.
(copies available for purchase at gallery or by phone or email order)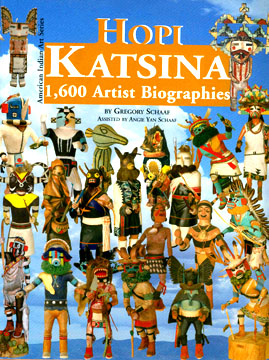 ---